Adaptor Chucks - Works with *Dremel®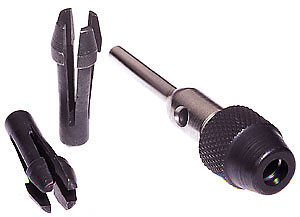 Gyros Adaptor Chucks are made in the USA and constructed of durable Stainless Steel. They allow you to maximize the use of your small twist drills in any tool that can use 1/8" shank accessories. Easily switch between drilling and other uses for your motor tool without changing collets. Your drill can even be left pre-set in the chuck while your motor tool is being used with other accessories, thereby reducing setup time. Use with your *Dremel® type tools.
MADE IN THE USA.
*Dremel® is a registered trademark of the Robert Bosch Tool Corp.