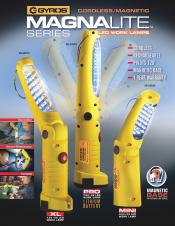 MAGNALITE LED Cordless/Rechargeable Work Lamps
MAGNALITE LED WORK LAMP SERIES
Multi-Purpose MAGNALite LED Work Lamps are an ideal work light/shop light for professionals and for at-home use. Perfect for automotive repairs, motorcycle lights, plumbers, electricians, camping, around the home, workshop, garage, roadside assistance, during power outages, and more!
Cordless, rechargeable, long-lasting and portable so it can work with you on the job or at home. It conveniently provides a 'cool-to-the-touch' bright light wherever and whenever needed. Great glove compartment light.
Our exclusive, strong magnetized base allows the lamp to be latched onto any metal surface. This is especially useful when working under the hood of automobiles. The handy hang hook on top, allows for hands-free illumination wherever and whenever needed.
Each MAGNALite is designed to pivot forward and backward, at 120 degree ranges - for perfect positioning and directional light control.