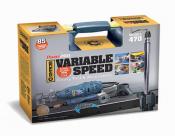 Rotary Tools - *Dremel® Type
Gyros is proud to introduce our own PowerPro line of Rotary Power Tools.
PowerPro 1.2A Variable Speed Rotary Tool Kit & our PowerPro Cordless 9.6V Rotary Tool Kit - Both kits are value-packed with attachements and accessories. They are both backed with our manufacturer's warranty. Each kit also comes with a special offer - buy any one of our kits and get $10 off our GyrosGuard Safety Shield Kits.
And now, you'll find our Rotary Tool Kits priced at least 20% lower than our competition!
*Dremel® is a registered trademark of the Robert Bosch Tool Corp.